Available Sheds Ridley PA
Strong & Sturdy Sheds Ridley
pennsylvania

19033 Residents Trust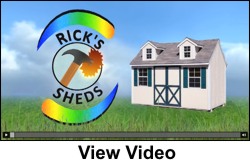 Click Here for a full list of Sheds
Rick's Sheds in Ridley PA has the widest variety of sheds for virtually any storage need or other use. We also offer
custom shed solutions that we build custom to your specifications.
Whether you just need to store your lawnmower and gardening tools or you're setting up a home studio or workshop out in the yard, we have the right shed for every purpose.
When searching for the best quality and most affordable shed in Ridley pennsylvania, Rick's Sheds is the name you trust.
S 65A 15 - Stock 8 x 12 High Wall Workshop - $1939.00
Stock shed #65A 15 - 8 x 12 high wall workshop, painted duratemp siding - white with black trim, Charcoal architectural shingles, metal end vents, 4' designer style double doors with diamond plate sill, [2] 18 x 17 windows with 3 1/2" straight picture frame trim, 3 1/2" miratec corner trim

Regular price - $2039.00

SALE PRICE - $1939.00

Click Here for More Details

Click Here to request a price for
S 65A 15 - Stock 8 x 12 High Wall Workshop - $1939.00
S 41A 15 - Stock 10 x 12 Highwall Workshop - $2447.00
Stock shed #41A 15 - 10 x 12 highwall workshop, vinyl siding, clay with linen trim, weather wood architectural shingles, 8" x 8" vinyl end vents, [2] 18" x 36" windows with 2 1/2" picture frame trim, 5' double fiberglass doors painted clay with diamond plate sill

Regular price - $2547.00

SALE PRICE $2447.00

Click Here for More Details

Click Here if you are interested in
S 41A 15 - Stock 10 x 12 Highwall Workshop - $2447.00
S 39A 15 - Stock 8 x 12 Designer Workshop - $2783.00
Stock shed #39A 15 - 8 x 12 designer workshop, vinyl siding - Sandstone with clay trim, Weathered Wood architectural shingles, 4' double designer doors with diamond plate sill, transom glass in doors, 4' x 8' loft, painted rake and fascia, 3.5" miratec corner trim, 3 1/2" straight picture frame trim around windows, [2] 18 x 36 windows

Regular price - $2883.00

SALE PRICE - $2783.00

Click Here for More Details

Click Here if you are interested in
S 39A 15 - Stock 8 x 12 Designer Workshop - $2783.00
S 103A 15 - Stock 8 x 14 Highwall Workshop - $2683.00
Stock shed #103A 15 - 8 x 14 high wall workshop, 5" lap siding painted clay, white trim, black shutters, charcoal architectural shingles, 4' double doors with diamond plate sill and 3.5" curved door trim, 12 x 12 end vents, higher roof pitch, [2] 24 x 36 windows with 3.5 curved picture frame trim, 10" overhangs all around.

Regular price - $2783.00

SALE PRICE - $2683.00

Click Here for More Details

Click Here if you are interested in
S 103A 15 - Stock 8 x 14 Highwall Workshop - $2683.00
Impress your friends and neighbors and have the party of your dreams on the porch of the stunning Pool House! With eleven lite glass in steel doors and a beautiful covered vinyl porch, this absolutely gorgeous shed is the ideal choice for any yard with a pool or pond or as the main feature of your backyard picnic area!

Make this one a priority!

Shown with: glacier blue vinyl siding, white trim, pewter gray shingles

Click Here for More Details

Click Here to request a price for
The Pool House