Made in Pennsylvania by Skilled Craftsmen
Manufactured using environmentally friendly recycled #2 plastics.
Maintenance free - no need to paint or stain.
Does not absorb water and will not harbor harmful mold or bacteria.
Will not splinter or suffer structural damage from termites, dry rot, fungi or bacterial decay under normal residential use.
Suitable for all climates and conditions.
Fade and flame resistant.
Stainless steel swivels, ball bearing glider arms, screws and bolts for a smooth ride and durability.
Available in a variety of colors.
High color stability UV pigment systems which minimize material breakdown from prolonged sun and weather exposure.
Solid color to the core.
Non-absorptive and impervious to most chemicals.
No harmful chemicals to leech into the environment.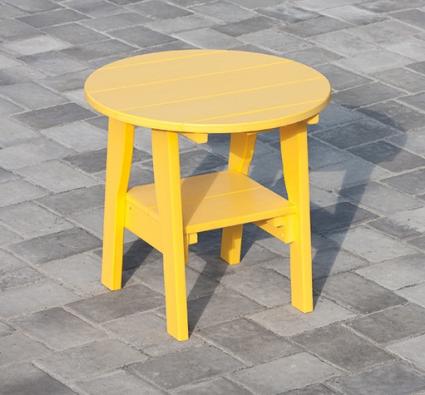 Click Here to request a price for
Country Garden Poly 2-Tier End Table Solid Color