Whether you do not have a garage, or your garage has become the default location for the attic overflow, the Workshop Garage is the ideal choice for you and your car or truck!
The Garage edition of the Workshop offers the same simple country charm in its design and is a beautiful addition to any backyard. The overhead garage door and a reinforced floor with floor joists every 12" provides you peace of mind knowing that your Workshop Garage is a consistently and proficiently protecting one of your most valuable assets from the elements.
Order your Workshop Garage today!
Shown with: clay paint, white trim, black shutters, weatherwood shingles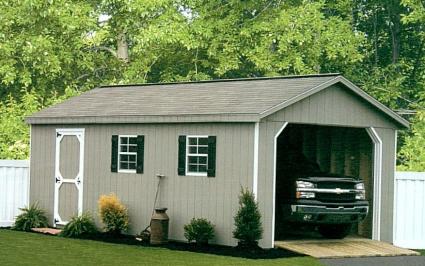 Click Here to request a price for
The Workshop Garage