All structural members are preserved wood encased with white or ivory vinyl. All of our play systems are built with the finest materials available.
Our swings feature heavy duty stainless steel corner brackets with a powder coated finish, complete with stainless steel fasteners.
THE VALUE OF PLAY: * Play teaches cooperation and teamwork. * Play provides a child the opportunity to test his or her limits. * As children learn to play hard, their bodies grow. * They learn that muscular development is needed for a strong body. * Active play helps maintain a healthy weight. * Make believe play helps young children with math, language and social skills. * All of these skills help children to be successful in school.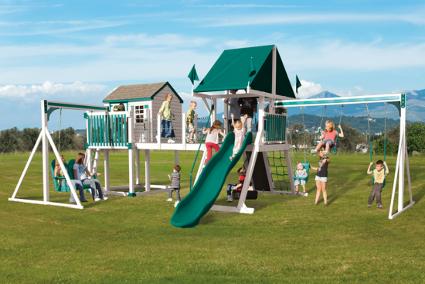 Click Here to request a price for
Swing Kingdom C-8 Bridge Escape