Wooden & Vinyl Swing Sets
Gladwyne
PA
Fun & Sturdy Swing Sets Gladwyne Pennsylvania Kids Love
Click Here for a full list of swing sets
There is nothing more fun for kids during the warm months than enjoying a back yard wooden or vinyl swing set. Gladwyne PA kids with swingsets in their yards are the envy of the neighborhood.
At Rick's Sheds, our swing sets in Gladwyne Pennsylvania are designed to keep your kids safe and provide countless hours of backyard fun at a price that won't bust the family budget.
* Our retail location is 2760 Concord Road Aston PA, all deliveries come from this address
---
Stock SWV 27SK 17 - Stock Ninja Gym - $3999.00
This is a Discounted Product - Only $3,999.00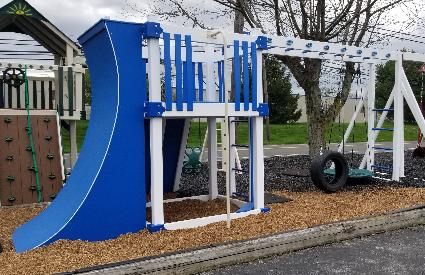 Stock play set #SWV 27SK 17 - Swing Kingdom Ninja Gym, white vinyl with blue accents and accessories. 5 x 5 tower, 8' warp wall, 3' x 5' rock wall with rope, 5' tower mounting ladder, NOC (Ninja Obstacle Course) climber, V-Climber, 2 anchors, fire pole.
Retail Price $6143.00
Display Price - $3999.00
This display clearance would still retain the warranty from the vendor, however since it is a display model it is sold As-Is.
We require 8' wide truck access for delivery and a level area on which to place the set.
Delivery is not included. A site inspection would be required to confirm delivery acce
---