Agio Patio Furniture
Smyrna
DE
19977
Agio Outdoor Furniture Smyrna Delaware Residents Enjoy
Click Here for a full list of Agio Products
Trendsetting design and longstanding durability do not go unnoticed. Agio, the industry leader in fine outdoor furnishings, gives you new and exciting opportunities to enjoy outdoor living. Using the finest materials designed to give you and your guests years of enjoyment, Agio collections Smyrna Delaware are crafted for you to make the most of your space.
In looks that range from clean, modern design to classically-styled elegant collections, Agio has a look that will show your friends and neighbors your decorating and entertaining savvy.
* Our retail location is 2760 Concord Road Aston PA, all deliveries come from this address
---
Agio Party Bar Collection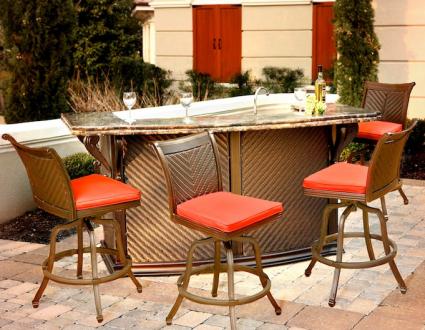 Agio, which in Italian means "leisure", is the leading brand of upscale outdoor furniture. Its quality derives from trend-setting designs, enduring materials, state-of-the-art manufacturing processes and extraordinary responsiveness to the needs of consumers. Agio is committed to the design and production of the world's finest quality, high-value outdoor furniture. Through our commitment to excellence and our partnerships with esteemed retail customers, we're able to deliver levels of reliability and integrity rarely found in the industry.
Bring leisure home with the Agio Party Bar Collection. A complete bar with working sink and small refrigerator. You bring the drinks, we will bring the comfort!
---
Agio Jefferson Collection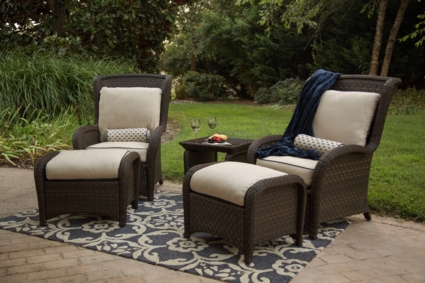 Agio, Italian for the word "leisure," has given homeowners around the world the freedom to discover, design and live well in their outdoor rooms.
With looks that range from casually comfortable to elegant and dramatic, no matter which Agio collection you choose, you choose the brand that combines the finest materials and craftsmanship to create an outdoor room that you and your guests will enjoy for years to come. Discover your entertaining self with a look that says "you" and a look that says Agio with the Jefferson Collection.
This collection includes two lounge chairs with throw pillows & ottomans as well as a side table to share.
---